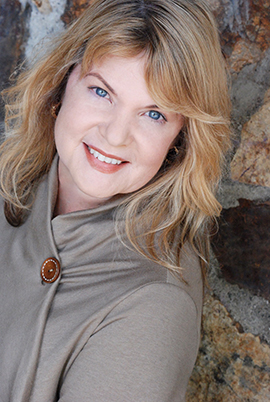 A reviewer responding to Susan Gundunas's performance of "Vilia" in The Merry Widow likened her voice to "an angel transporting souls to catch a glimpse of heaven." Another critic watching her Marie in Daughter of the Regiment called her "dramatic skills... stunning." A reviewer of her recent turn in the world premiere of Nosferatu took the measure of all her gifts, writing that Susan revealed "both heart and soul, displaying a gorgeous range, perfect pitch, and expressive stage presence." Audiences across the US and in Europe have been raving about Susan's unique combination of vocal brilliance and dramatic craft since she learned the role of Mimi in La Bohème during a hectic two-week crash course and debuted on the mainstage of Opera San Jose.
Susan's drama skills were honed when she studied Theater Arts as an undergraduate at Santa Clara University, and began work as an actress with the San Jose Repertory Theater. While there she crossed paths with George Cleve, who urged her to study voice, and from there she found herself increasingly drawn to music.
She caught the eye of Irene Dalis and subsequently won a contract at Opera San Jose as Principal Resident Artist, where she sang Lucia, Violetta, Mimi, Cio-Cio San, the title role in Vanessa, Oscar in Un Ballo in Maschera, among other parts, followed by a year in Germany where she sang the operatic role of Carlotta in Phantom of the Opera and performed on television and with the NDR Symphony in a concert of arias.
Since returning to the States, Susan has performed across the country in a variety of roles, with Nevada Opera, Opera Memphis, Opera Idaho, Rimrock Opera, Sonoma Opera, Pacific Repertory Opera, and others. During this time she worked intensively with composer Alva Henderson and librettist Dana Gioia as they developed their new opera Nosferatu, writing the part of Ellen expressly for Susan.
Susan has performed in numerous orchestral concerts. As a concert artist she has sung works by Vaughan Williams, Dvorak, Mozart, Handel and Busoni with the Peninsula , San Bernadino, Santa Cruz, Las Vegas, San Jose Chamber Orchestra, Schola Cantorum, and Berkeley Symphonies, in addition to the Erie Philharmonic and NDR Symphony, Hamburg. She has performed under the batons of Kent Nagano, Stewart Robertson, Barbara Day Turner, David Rorhbaugh, Mary Chun, Ernest Knell, Valery Ryvkin , George Cleve, Joseph Silverstein, Marika Kuzma and Ryan Brown. She has also worked with stage directors Harold Prince, Charles Maryan, Michael Edwards, Michael Fontaine, Giorgio Tozzi and Daniel Helfgot to name but a few.
She mastered vocal technique in studies with Jane Randolph, and when not performing Susan teaches voice at University of California, Berkeley and runs a busy vocal studio in San Francisco.